News | Taking liberties with Duranty
Charles Duranty, creator of wondrously eccentric East Anglian landscapes that can be seen in our gallery, was a poet as well as an artist. Today he is better known for his paintings than his verse, but we have managed to track down a rare copy of what we believe to be the only published volume of his poems. It is titled Audition, published in 1954, and it has given us an idea…
Audition is your classic slim volume, comprising just 19 poems spread over a dozen pages. Wistful and rather melancholic, they lack the cheerful, idiosyncratic humour of his paintings, but they are full of striking and colourful imagery. Here's an example:
Above the fern-tangled quarry
fingering its violet shadows
she wrote out the nomadic morning
so I buried the creature of love
deep in ornamental burrows
until jackdaws unhooked my tongue
[from To a girl with black hair]
Is this good - or not so good? Frankly I'm not sure. I certainly prefer his paintings to his poetry. These poems were written in the early 1950s, a decade before he took up painting in earnest. But it is interesting to see his poems and paintings as different sides of his contrary character.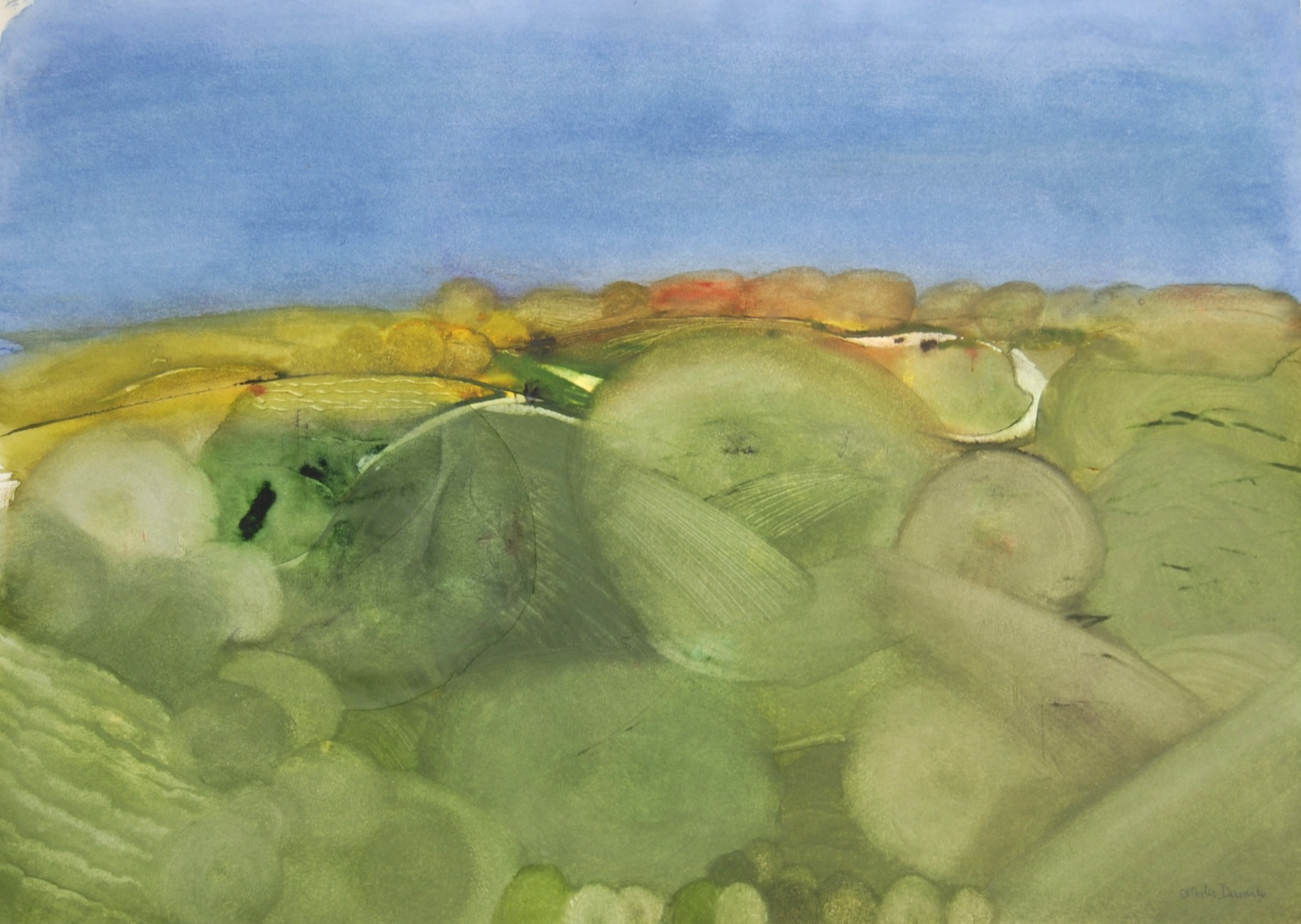 In the hills where my childhood lingers, watercolour 42 x 59 cm
His verse has also come in handy for another purpose, rather cheeky, but useful, which is providing titles for some of his paintings that lack them.
About 20 paintings featured here on the website were originally acquired from the Thackeray gallery in 1970 by the eccentric collector Richard Cory Smith, who later gave them to a friend, who stashed them away in a drawer and forgot about them. The first time they were shown in public again was almost half a century later when they were shown in our When they were young… touring exhibition in 2016.
Most of these pictures were simply watercolours on paper that had not been framed and labelled before Cory Smith snapped them up, and sadly we didn't know what titles Duranty had in mind for them. So what should we call them ? Untitled 1, Untitled 2, Untitled 3, etc, seemed a bit boring. But we resisted the temptation to devise humorous Duranty-style titles and initially gave them bland descriptive names such as Green landscape. 
Now that we have tracked down a copy of Audition, we have come up with what we think is a much better solution. We have taken the liberty of lifting lines from the poems and using them as titles. This is a tad impertinent, maybe, but also quite fun. Titles created this way are marked with an asterisk*.
Go straight to Charles Duranty's page