Five female artists explore the human body
Our new exhibition features five female artists whose subject is the human figure, both male and female.
It is happening at one of our favourite venues, Burgh House in New End Square, Hampstead, and runs from June 22nd till July 3rd.
The private view is on Tuesday June 28th (moved from June 21st due to the rail strike). If you would like an invitation, please phone 020-8995-1884 or email info@roberteaglefineart.co.uk
Here are directions to the venue
Why we are doing this show
"The Male Gaze" is a fashionable term, generally used disparagingly to describe how male artists "objectify" the female body. Paintings of the naked female figure, even by masters such as Titian, have recently been anathematised as "soft porn for the elite".
So before curators everywhere are carried away by this rising tide of righteousness and strip gallery walls of every naked female form, we'd like to present a sideways view on the subject by showing the work of female artists who specialise in the human figure, both female and male.
Admittedly women haven't had as long to get going in this field. The first work painted by a woman featuring a naked full male figure to be exhibited in public was when Adam and Eve by Suzanne Valadon was shown at the Salon d'Automne in Paris in 1909. And even in that painting Adam is wearing a fig leaf.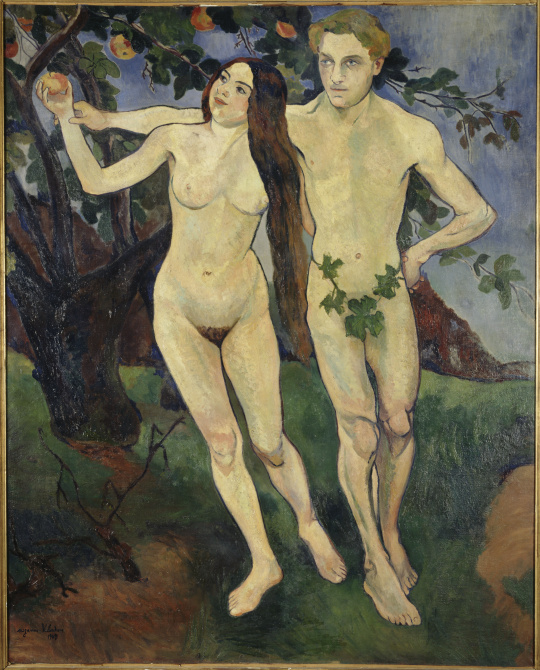 Adam and Eve, by Suzanne Valadon, Centre Georges Pompidou, Paris
Even now the naked male figure is still relatively unusual in the work of women artists. But one artist who embraced it with enthusiasm was Inge Clayton, a young Austrian who came to London in the sixties as an au pair, signed up as a student at the Camden Art Centre and embarked on a career as a professional artist.
Much of Clayton's work is uncompromisingly erotic, typically portraying what appear to be steamy scenes in brothels and dives, spiced with a strong sense of humour and a feeling for the amusingly grotesque. An admirer of Kurt Schwitters and Oskar Kokoshka, the sensuality of her work is reminiscent of her Austrian compatriot Egon Schiele, though her nude studies are warmer, less harsh. Above all she has a special affinity for the male figure, which she portrays with a deft use of line that manages to be both delicate and potent.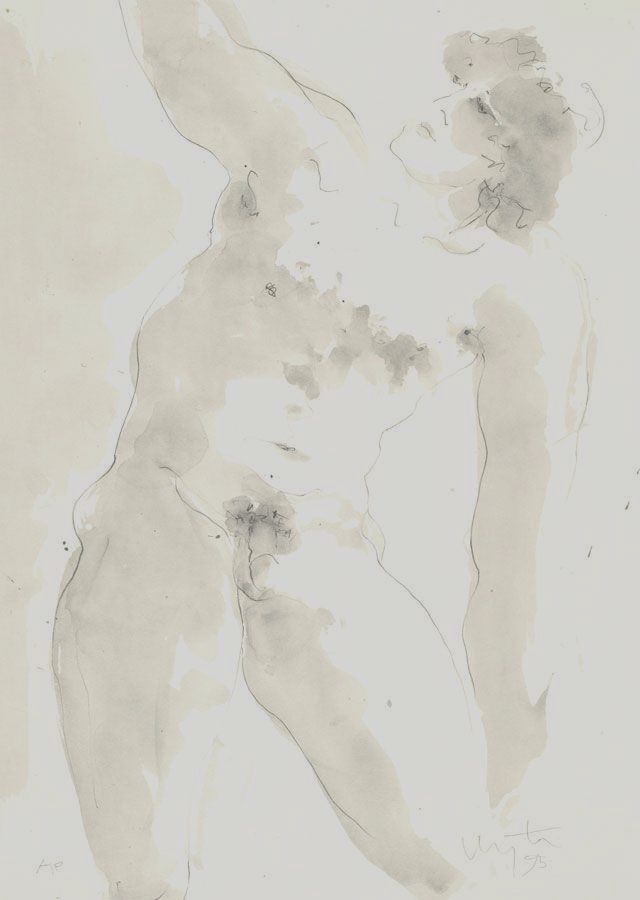 Justo, by Inge Clayton, limited edition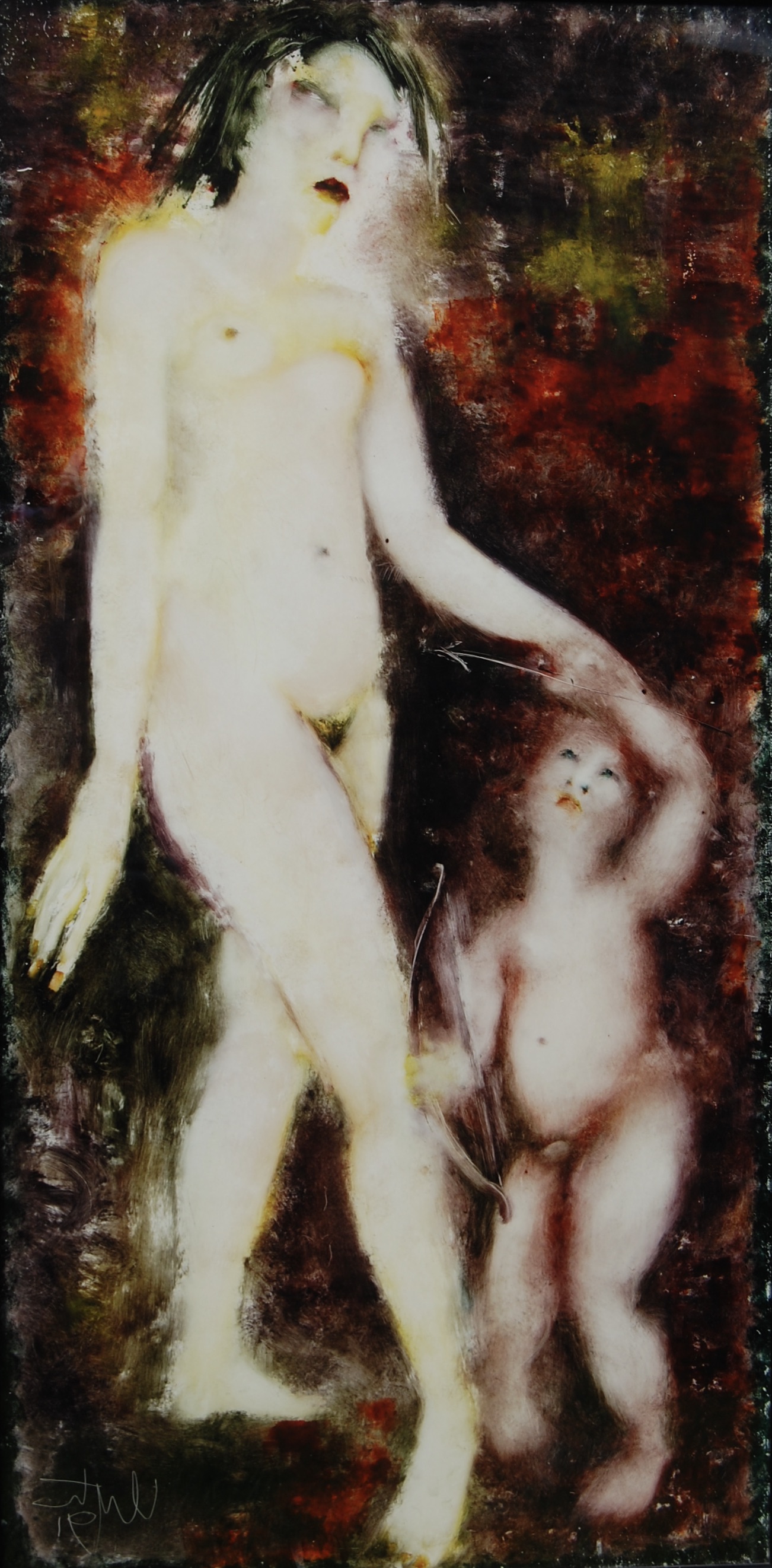 Venus and Cupid, by Inge Clayton, oil on acetate laid on board
Inge Clayton lived in north London until she died in 2010, aged just 68. The other four artists in the show are still very much alive and active.
Nicky Basford and Katie James have made their names working with landscape and still life, but they find themselves constantly returning to life drawing and the human body.
Heloise O'Keeffe is a young artist whose work explores the unconventionally beautiful human figure.
Juliet James' drawings of the female figure are witty, cheeky and provocative. Her nude figures have regularly been "shadowbanned" on Instagram, so she has recently opened a parallel site in which the figures are clad with modesty-preserving red dots.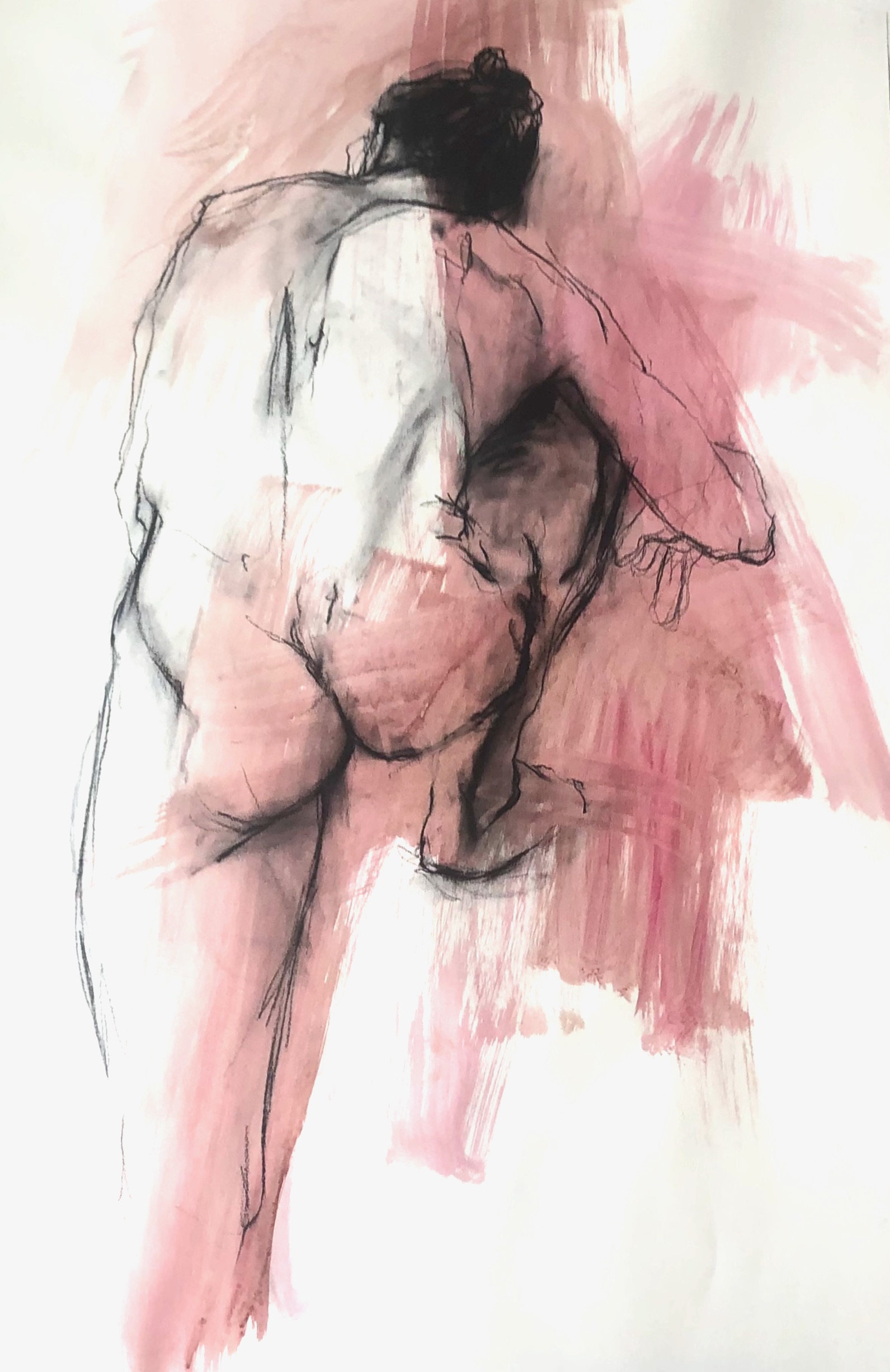 Adrian stretching, by Nicky Basford, charcoal and acrylic. See more of her work here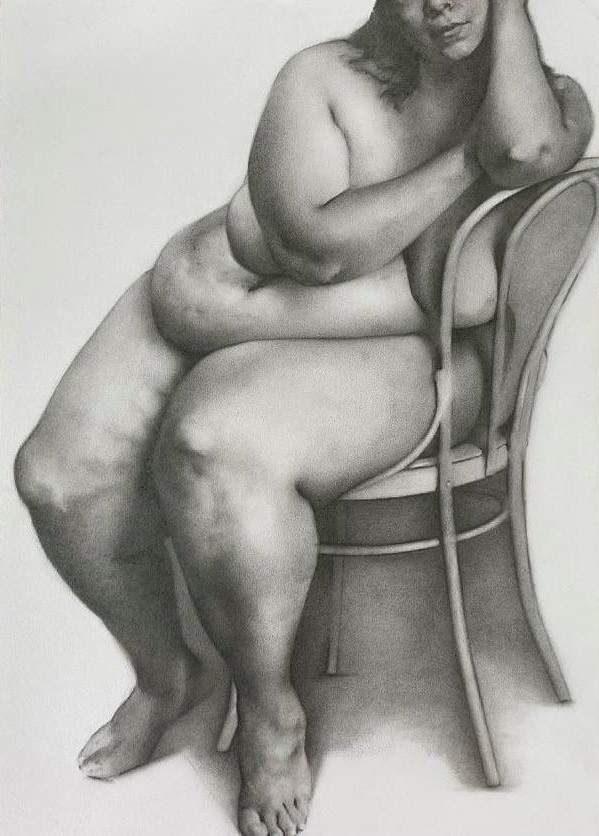 Eliana, by Heloise O'Keeffe, pencil on paper See more of her work here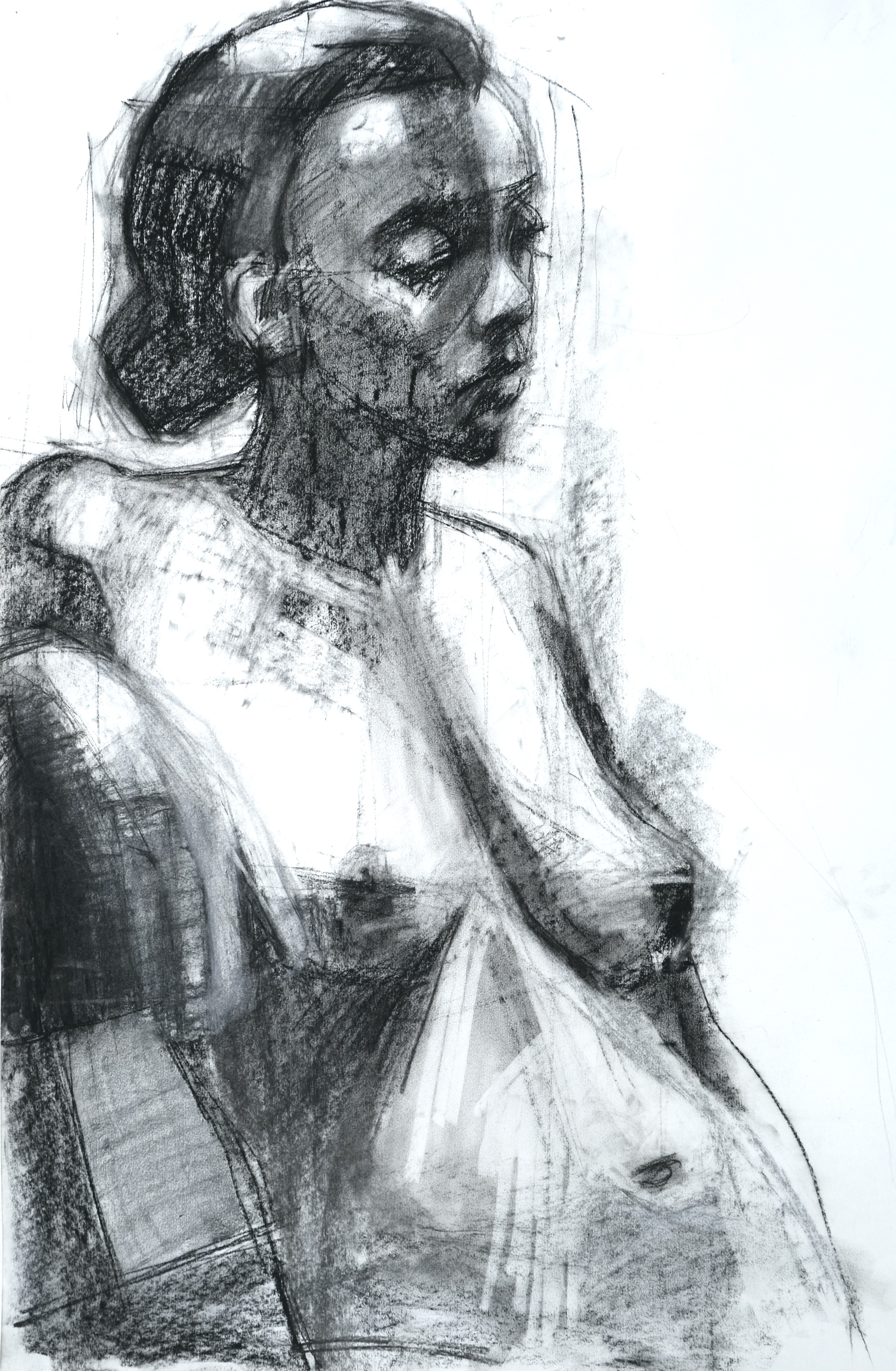 Akua, by Katie James, charcoal on paper See more of her work here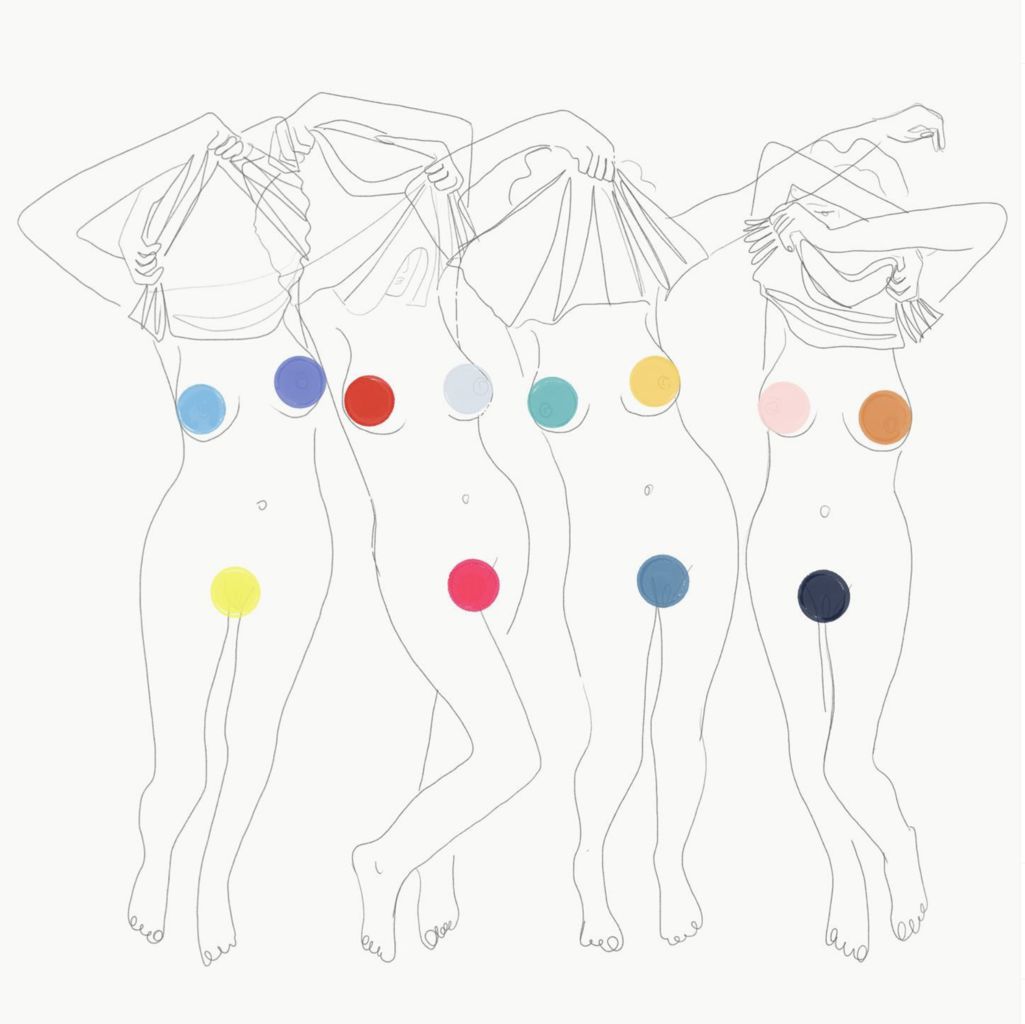 Life class, by Juliet James. See more of her work here
Enjoy this interview with Juliet James