---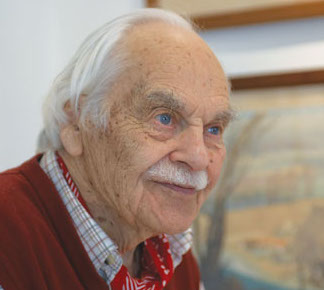 About the artist
All the works by Cavendish Marton shown here featured in the "When they were young…" touring exhibition during 2016.  TMore information about this exhibition in our NEWS section.
One of East Anglia's most respected 20th century artists, Cavendish Morton was born in 1911 and spent a nomadic childhood wandering the country with his family, finally settling on the Isle of Wight. He made his name early as an aviation and motorsport artist, then after the war his talent as a landscape artist came to the fore after he moved to Suffolk in 1948. Among his best known works is this series of paintings he made of the Snape Maltings, the concert hall and opera house created by Benjamin Britten, during its reconstruction after a terrible fire in 1969. Three paintings from that series are shown here.
Cavendish Morton died in 2015, aged 103.
Photo credit: Island life magazine
---
The Works