---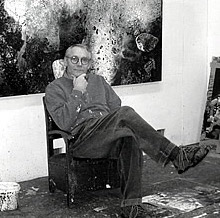 About the artist
Michael Porter was born 1948 in Derbyshire, a county renowned for its rugged natural beauty, as a child and youth he made the most of his surroundings, walking the dales and climbing the local grit stone.
From 1974 he worked in the same studio in Hackney, East London until his move to Cornwall in 1997 during this period he lectured in most major Art Schools in London and the provinces as well as several throughout Europe.
For the past 20 years he has worked exclusively from the landscape, always using locations that he has been familiar with over long periods of time as the paintings incorporate both time past and time present.
(excerpts from the artist's website)
---
Artist Michael Porter takes us beneath the roots of the trees and the surface of the landscape. For the "Inspired by trees" exhibition 2021
Video
---
The Works