---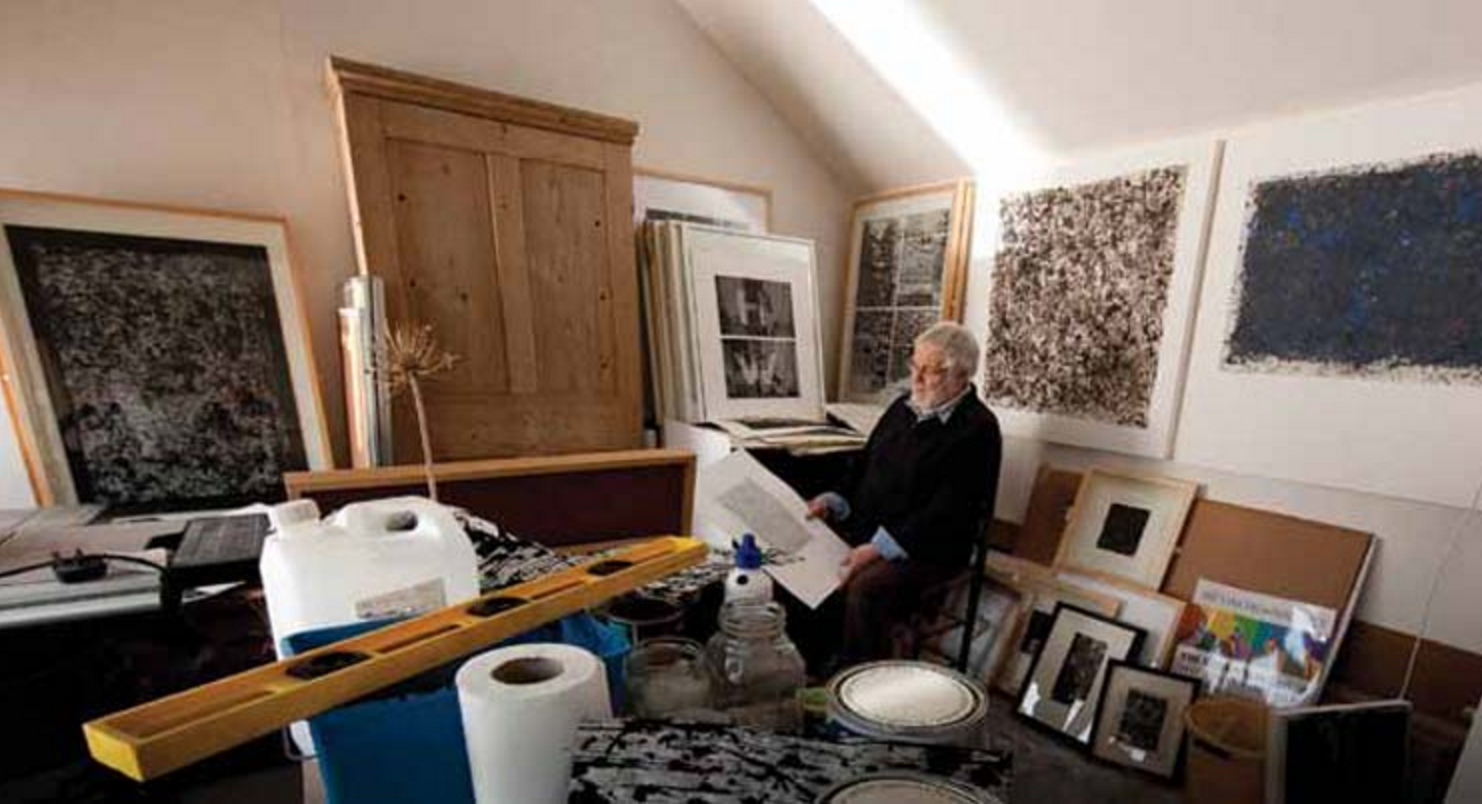 About the artist
Most of the works shown here featured in our "When they were young…" touring exhibition.
More information about this exhibition and the extraordinary story behind the paintings in our NEWS section.
Today Geoffey Lefever's painting is entirely abstract, and he is more likely to be using a stick or a bundle of straw than a paintbrush to create his finely textured works in acrylic mixed with ash, graphite and ground pigment.
So compare and contrast those recent works at the foot of this page with the very atmospheric watercolour and gouache landscapes that comprise the majority of his paintings in our galllery. These all date from around 1969 to 1971, the early part of his career.  Many are inspired by the landscape of North Norfolk, where he still lives, as well as the Essex marshes and Provence.
These early paintings were all acquired in the early 1970s by an enthusiastic, eccentric collector, Richard Cory Smith, who later gifted them to a friend, in whose home they had been stored, unmounted, unframed and all but forgotten, ever since.  But they had been painted at a crucial time - both professionally and emotionally - in Geoffrey's life, when he was facing for the first time the challenge of making a living from his art and supporting a young family.
A professional engineer as well as artist, Geoffrey now enjoys pursuing both careers, and is equally at home restructuring people's houses in Norfolk as creating and exhibiting his original and continually evolving art.
More about the artist can be found on his own website: www.geoffreylefever.com
Geoffrey is a member of the Norwich 20 Group of artists: www.norwich20group.co.uk/Geoffrey_Lefever
A price list of all works can be provided by mail or email on request. Prices for Geoffrey's early works from 1969-1971 range from £295 (mounted but not framed) to £695 for larger, framed works.  His more recent smaller abstract works are £300 - £400.
Photo credit: geoffreylefever.com
---
The Works