---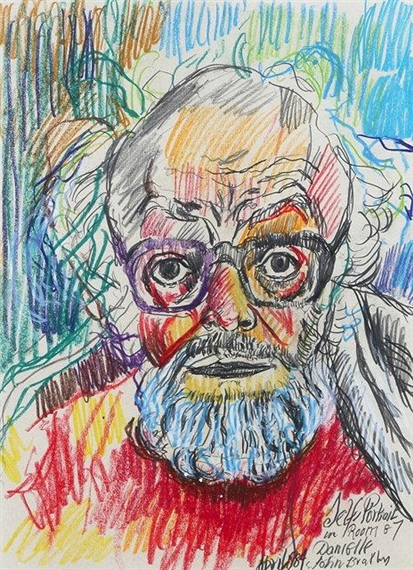 About the artist
John Bratby was the maverick luminary of the British "kitchen sink" artists during the 1950s and '60s, credited as the precursor of Pop Art, though Punk Art might be a better description of  his own work. He was born in 1928, died in 1992. Here are excerpts from his obituary in The Independent:
"JOHN BRATBY's life was as colourful as his art….His childhood was chaotic and unhappy, and he took refuge in various school time enterprises: profitably reselling buns in break, writing pornographic stories which he charged for the reading of, and training himself to be a professional boxer….
"Antisocial through shyness, he found it difficult to talk to girls and would spend his term's grant in the first fortnight on 'women of the streets'. He was impoverished, and would beg or sleep rough in Hyde Park or stow away in the attics of the Royal College of Art. His art seemed to match his wild reputation. He would be found painting a still-life of dustbins or setting up his easel in the lavatory. He favoured heavily impastoed paint…in sombre earth colours. The handling was deliberately crude….
"From the start, Bratby excited press attention. When his dour, tough, impolite realism broke over the art world like a wave of dirty dish-water, the shock may have been salutary, but the response was disproportionate. In 1954, John Russell, then art critic of the Sunday Times, favourably compared Bratby's rendition of a cornflake-packet with Velazquez's Rokeby Venus, and Studio Magazine classed Bratby with Rembrandt, Goya, Courbet and Manet. The Marxist art critic John Berger likened Bratby's obsessive vision to that of the prisoner in the condemned cell, seeing life for the last time. Bratby became an international name almost overnight, and the first artist media pop-star, several years before Hockney. In 1956, Bratby and the other so-called Kitchen Sink painters - Edward Middleditch, Jack Smith and Derrick Greaves - were chosen to represent Great Britain at the Venice Biennale. That year, one of Bratby's finest early works, Still-Life with Chip Frier, was purchased by the Tate….
"Bratby will be remembered for his robust, vivid, muscular style….Bratby should also be given his due as a precursor of Pop Art. He was the first to get excited by packaging and brand names…. His paintings are unambiguous and refreshingly accessible…. celebrating the sheer physicality of people and things on a heroic level of emotion. The streaks and swathes and tubings of bright pigment make an exuberant appeal to the senses.
"Raw and vital, Bratby's best paintings have a life-enhancing vulgarity which transcends all questions of tastefulness."
Andrew Lambirth, The Independent, July 23, 1992
Image: Self portrait in Room 87
---
The Works