News | Our recent exhibition - INSPIRED BY TREES
Featuring a beautiful and diverse assembly of paintings by that dedicated group of artists who call themselves the Arborealists, Inspired by trees ran from June 2nd till June 13th at Burgh House in Hampstead. Many of the works - and more by the featured artists - can still be viewed online here.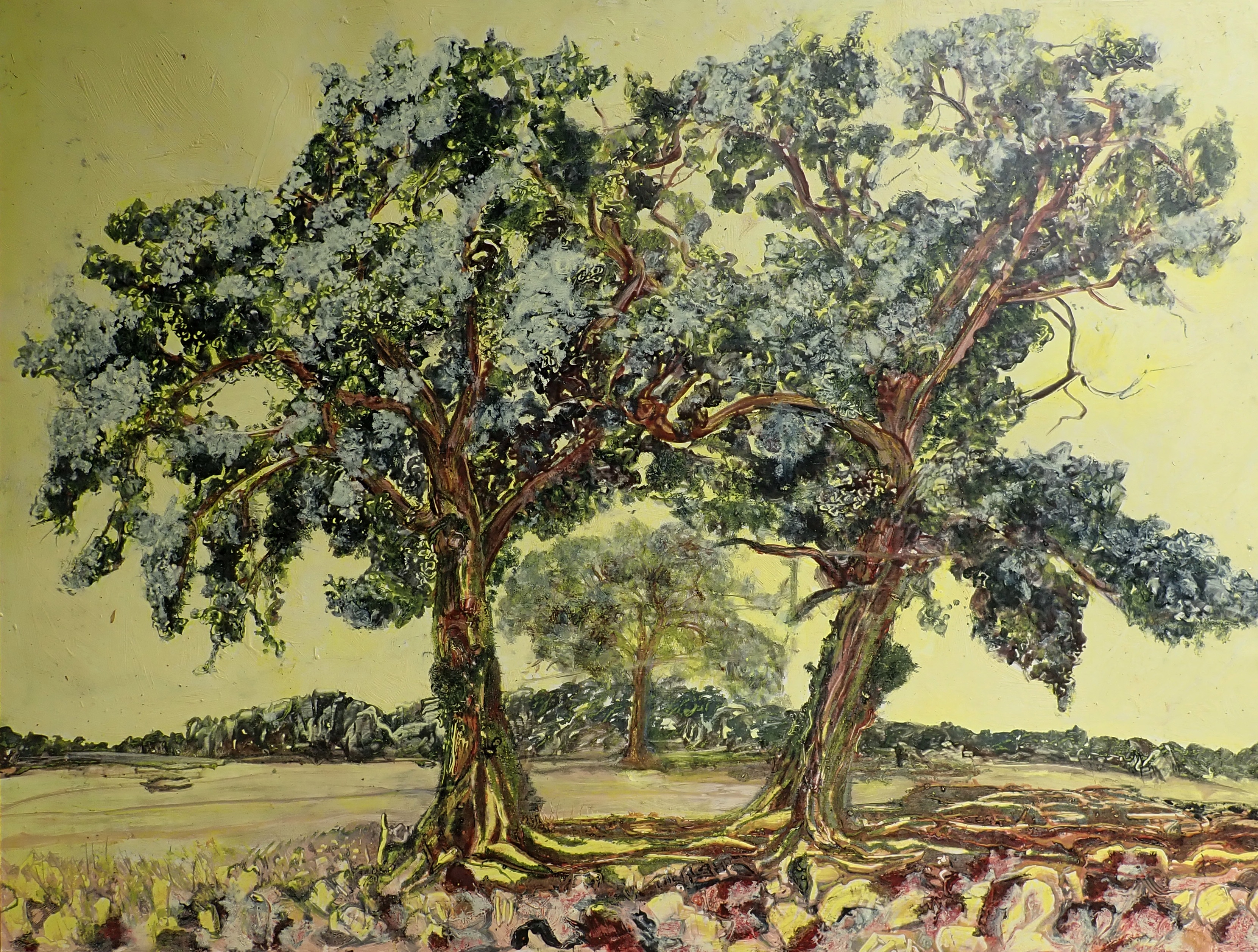 Stella Carr, I will hold you in the heat
It should have opened last year but was overtaken by the pandemonium. To celebrate its return we have added a couple more artists. Here's a link to the 16' video we have made about the ten painters whose work features in the exhibition. If that's too long for you, you can see short clips on the individual artists' page here on the website. Check out the links to each artist further down this page.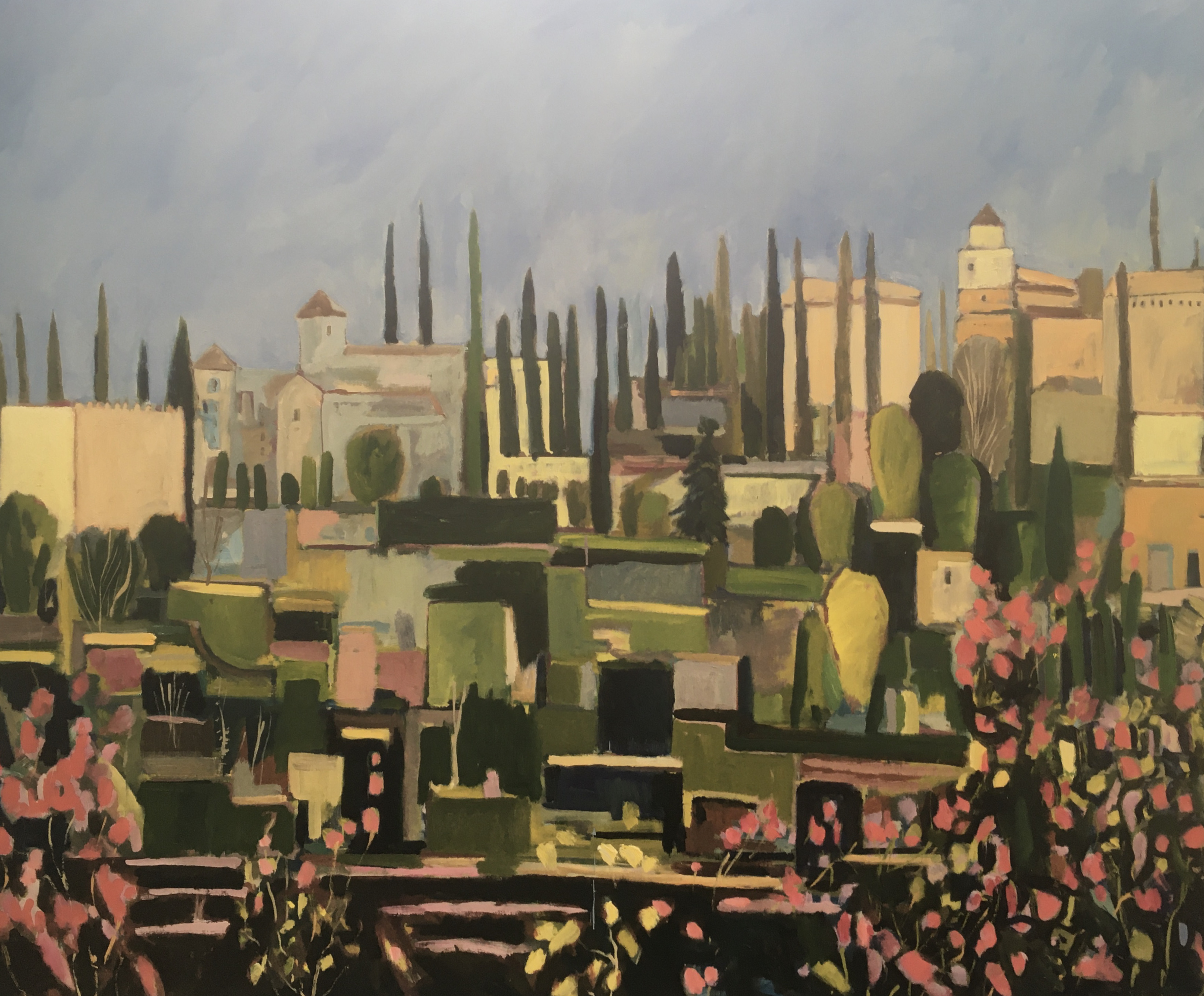 Paul Finn, Gift (The Alhambra in Granada, Spain)
These are the artists. Click on their names to see more of their work….
Philippa Beale, Lake at Vaux
Who are The Arborealists? by their founder, Tim Craven
The Arborealists are a loose association of some 60 professional artists of diverse art practice who share the subject of the tree. There are no rules and no subscription. The group is far flung. with members from the Welsh borders and the Cotswolds to East Anglia and London and every southern county from Kent to Cornwall. Outposts include Yorkshire, France and Ireland. The group enjoys an international profile and have already staged twenty exhibitions to acclaim in the UK and France with many more planned for the future, including site-specific projects. The group has also produced four illustrated publications to compliment the exhibitions to date. The Arborealists have worked in partnership with various environmental organisations including Exmoor and Dartmoor National Park Authorities, The National Trust and The Woodland Trust.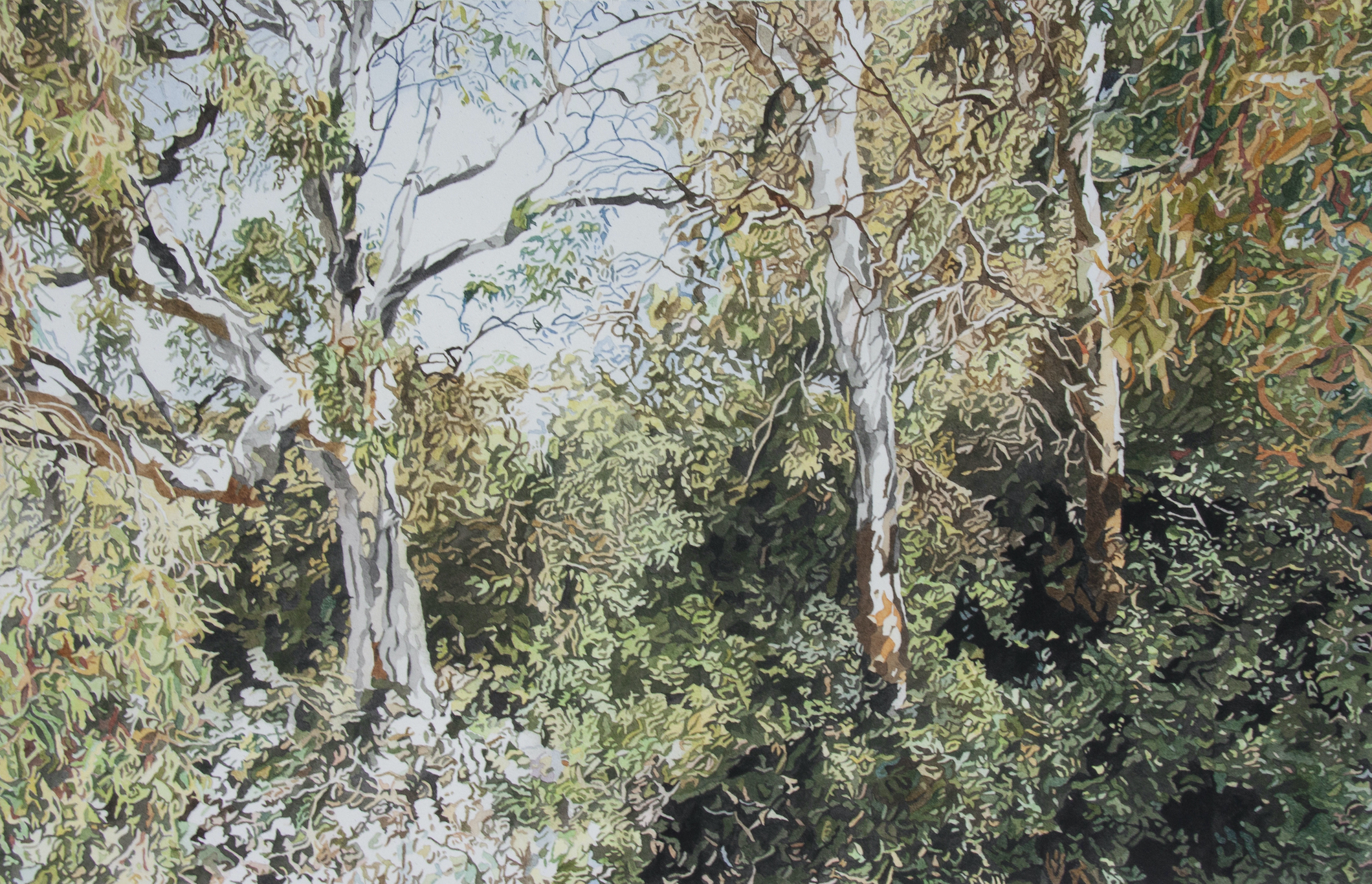 Tim Craven, Selinunte, Sicily
Although united by their subject, they employ a wide range of working practices: scale, medium, philosophy, style and technique. The results are by turn dramatic and contemplative, expressive, abstracted, hyperreal and Surreal. They demonstrate that trees still have a great relevance in contemporary art and retain their power to move us as a vital element in our landscape. Trees are a potent symbol of our threatened, fragile environment and are now at the top of the world's political agenda – indeed, they have never been more important to the human race.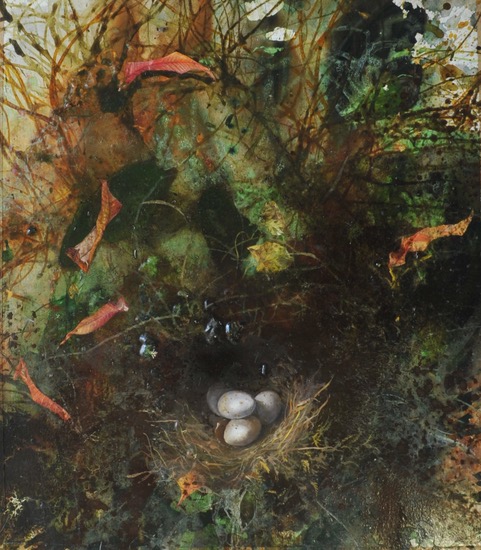 Michael Porter, Vanitas 12.02.18
Trees provide a wonderfully versatile subject for artists, not only in terms of the rich variety of form, texture and colour they provide, whether individually or collectively, but also through the wealth of association - myth, folklore, religious and symbolic significance, that they have come to embody over many centuries. In Britain, trees as a subject have inspired artists from Gainsborough and Constable through to the Pre-Raphaelites, the Neo-Romantics and the Ruralists. Piet Mondrian and Victor Pasmore used the tree as a device to turn abstract and Paul Nash famously stated that he loved and worshipped trees and believed they were people.
David Rolt - proto-Arborealist, by Robert Eagle
David Rolt led a double life. For a living he painted portraits of the rich and famous. But his secret love was conducted outdoors, painting trees.
English elms, Irish oaks, gnarled olive trees in Italy and scented pines in the south of France, he painted their portraits wherever he found them. For Rolt trees could express as much emotion and spirituality as any human subject. He found it easier to sympathise with a beautiful tree than with many of the celebrities whose portraits he was commissioned to paint.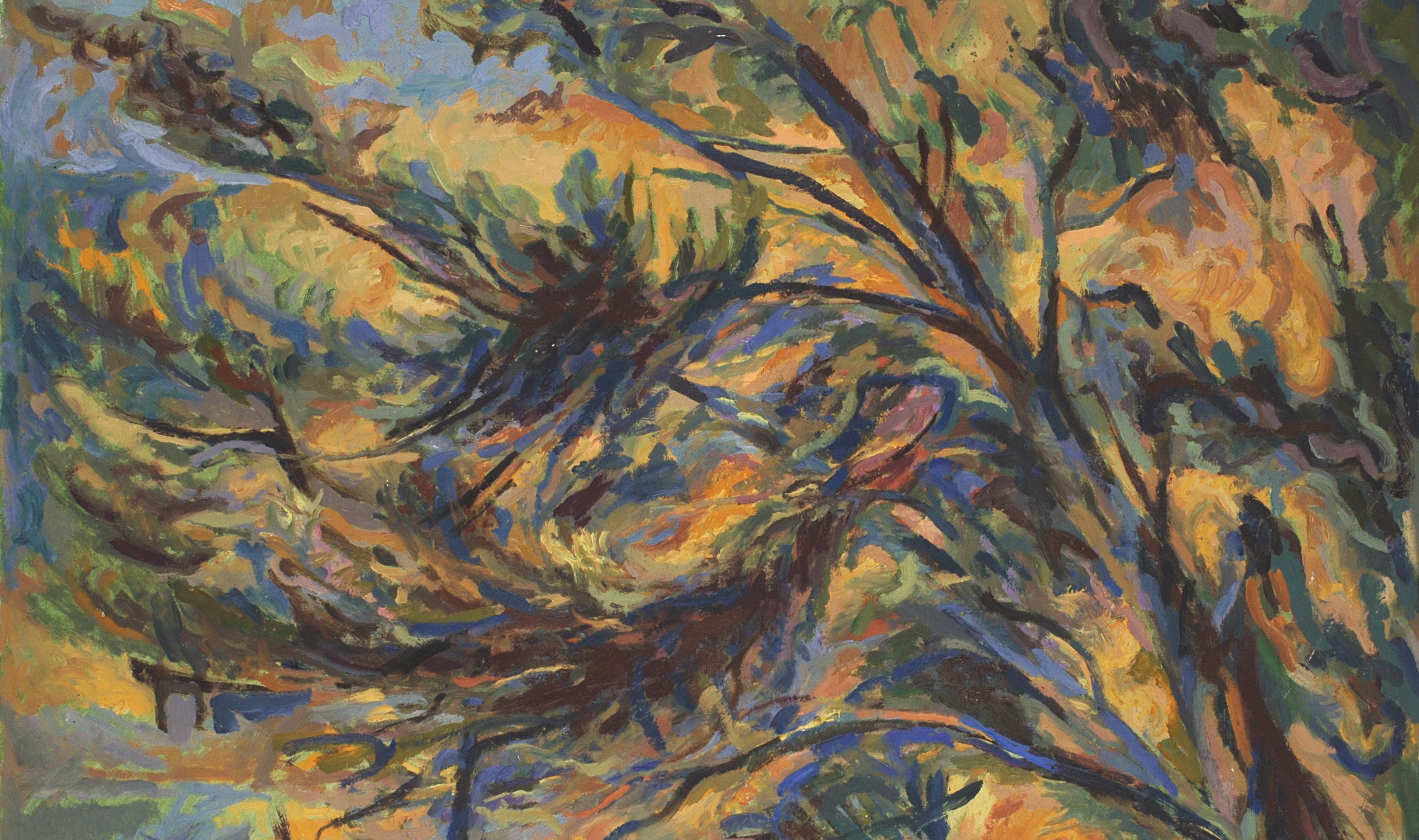 David Rolt, Windswept tree
David Rolt was born in Yorkshire in 1916. A forceps delivery damaged his skull and left him with lifelong disability in his right arm and one of his legs. Despite these handicaps, his artistic talent thrived and secured him a place at the Slade School of Fine Art. From the early 1940s his portraits and treescapes – characterized by their bold line and use of colour - were being shown at the Royal Academy and New English Art Club. His work caught the eye of the leading London gallerist Sir Jack Baer, who staged five exhibitions Rolt's work at the Hazlitt gallery, which were followed by exhibitions in New York, Cape Town and Istanbul.
The success of these shows brought Rolt many commissions, making him a sought-after portrait painter during the post-War years. His subjects came from stage and screen, politics, business and high society. A close friend was film star Valerie Hobson whom he painted many times. But trees were the subject he constantly returned to. His landscape paintings, which typically feature windswept trees or rocky shores reflect the wildly fluctuating emotional climate of the artist's life, often sun-drenched, but sometimes wintry-bleak.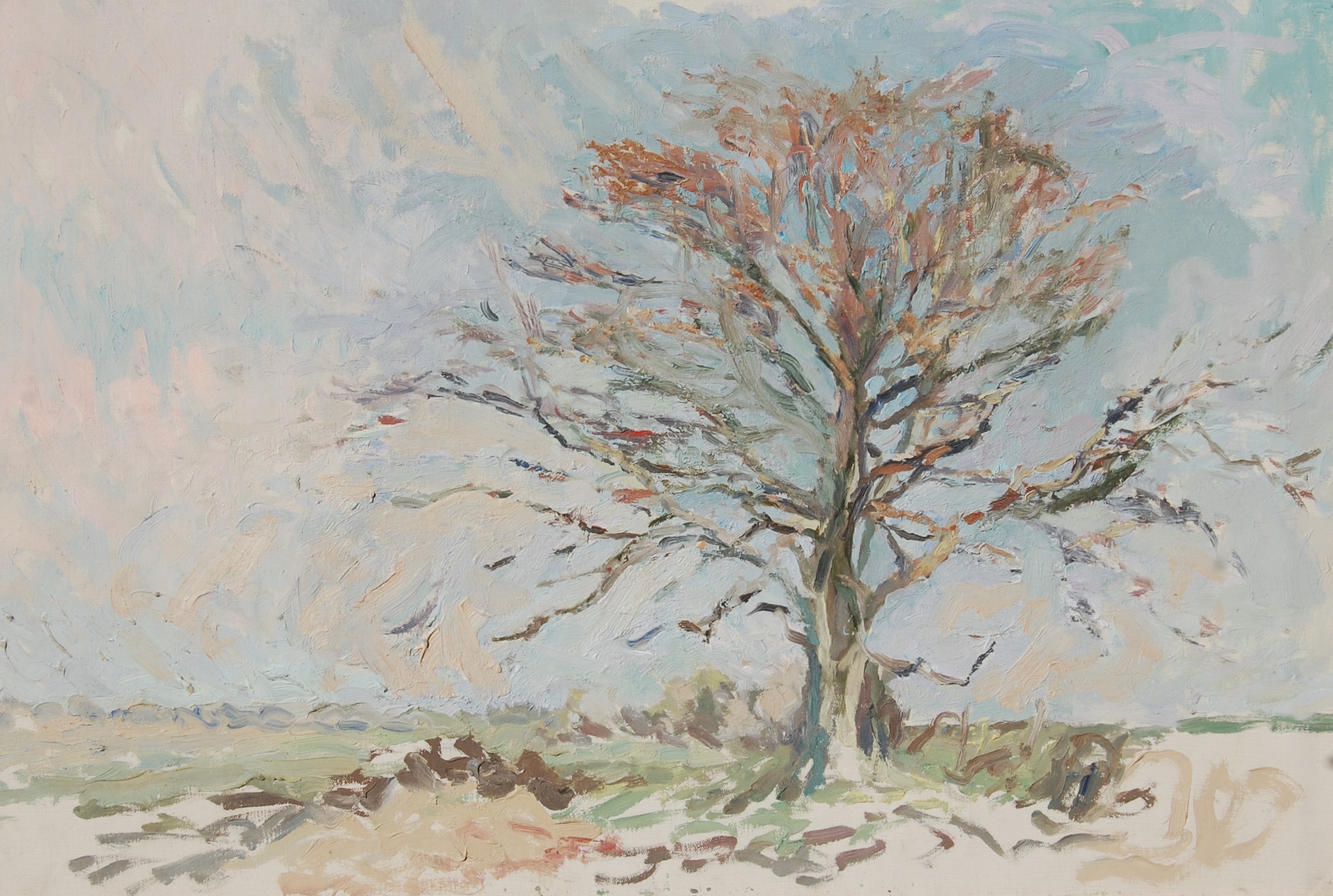 David Rolt, Winter treescape
When he was in France the sandy pine trees of Cap Ferrat were a favourite subject. In England the great elm trees near his homes in Berkshire and Oxfordshire would become a regular subject when Dutch elm disease threatened their existence.David Rolt died in 1985; a memorial exhibition was held in London the following year. The paintings featured in this exhibition are from the artist's estate and studio collection.