---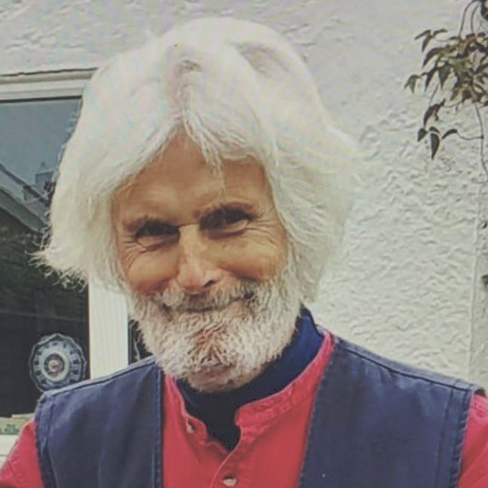 About the artist
Nicholas Barnham, whose work is characterised by its strong sense of line, studied painting and stone carving at Norwich School of Art and taught for several years at Cambridge School of Art. His subjects are typically boats, trees and the landscapes of East Anglia and the Shetlands. Born in 1939, he died on February 2nd 2021.
Robert Eagle writes: The first paintings by Nicholas Barnham that I ever saw had an extraordinary history. They were possibly some of the most important works he had done, as far as his career was concerned. But hardly anyone had seen them during the previous half century.
They were a selection of landscapes featuring East Anglia and Shetland, translucent watercolours but with a strong sense of line. As a diffident, young artist back in 1970 Nicholas had brought them from his home in rural Cambridgeshire to a London gallery, hoping against hope that he could persuade the owner to take him on.
A tad anxious, he had only just taken the pictures out of his portfolio to make his presentation, when a confident young man, apparently well known to the gallery staff, stepped forward, expressed his admiration for the work - and offered to buy them all on the spot.
This maverick young collector was called Richard Cory Smith. He came from an affluent background, and he was in the process of building up a substantial collection of British contemporary art. He often bought several pictures at a time, more than he could ever display in his own home. In fact he bought a pile of works by three other artists from the same gallery around the same time. And after acquiring them he fell into the habit of offering them to institutions, or simply giving them away to friends and acquaintances.
This is what happened to the paintings Nicholas Barnham had just sold to him. They weren't framed or even mounted. Cory Smith bought them, stashed them away in portfolios – and did absolutely nothing with them…
Until about 20 years later when he presented them to a lady who is now a member of the House of Lords. But she had even less room to display them. So the pictures remained in their portfolios, unseen, all but forgotten, until a few years when the lady decided to move house – and asked us if we could find new homes for them.
Four pictures on this page, all watercolours, are from that period. Do you think you can pick them out? Don't be too surprised if you can't because what is rather remarkable about Nicholas Barnham's work is how the characteristics of his style - especially his strong sense of line - barely changed over the past 50 years. If anything, it grew stronger. His subject matter remained remarkably similar too: treescapes, seascapes, the architecture of quiet places.
Nicholas' recent work was defined very largely by printmaking. The basic image of each work was a linocut, from which he would create a series of prints using a pair of mighty Albion presses nearly 150 years old. Each print would then be hand-painted with watercolour, with maybe a few of the series left in monochrome. Thus, even in a limited edition, each print differed somewhat in colour from the others.
Even into his 80s he continued to build a body of work within a tradition that he had created and that he constantly managed to refresh.
---
The Works